Niagara Falls Honeymoon Bridge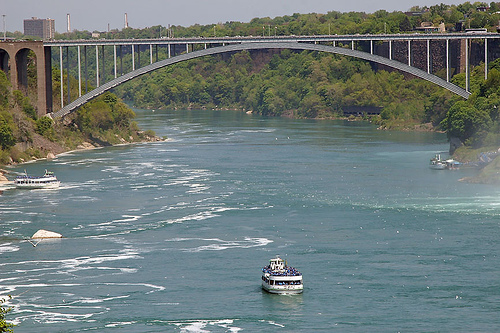 Two exciting days in January of 1938 yet again attracted worldwide attention. A combination of cold weather and a warm south-west wind sent vast masses of Lake Erie ice plunging down the upper Niagara River and over the two cataracts forming another stupendous ice jam. This build up of ice on Tuesday, January 25, 1938 shattered the docks of the Maid of the Mist and crumpled the Maid of the Mist caretaker's home. The loud humming of the great generators in the Ontario Power Generating Plant were stopped when they were buried by great heaps of ice. An even greater tragedy was about to happen.
Ice began to accumulate against the lower girders of the Falls View Bridge. It was feared the Honeymoon Bridge, as it was also popularly known, could not withstand the massive ice build up. All traffic was stopped on the bridge at approximately 9:15 a.m. on January 26. The story of the bridge's impending doom travelled quickly and within hours, crowds of people stood by waiting for the moment when tons of steel would go crashing down onto the ice bridge below.
At 4:10 p.m. on Thursday, January 27, a crushing force of massive ice ended the bridge's 40 years of life high above the waters. All that remained was a steely "W", the shape created when it crashed onto the ice bridge below.
There were no injuries in this spectacular crash and sightseers flocked daily to see what the forces of nature had created. When the mild weather arrived, this mighty structure sank to the bottom of Niagara.
In 1941, the new Rainbow Bridge was built just north of the Honeymoon Bridge. To ensure its safety, the girders were situated much higher above the level of the Niagara River.
Niagara Falls the Honeymoon Capital of the World