Devil's Hole State Park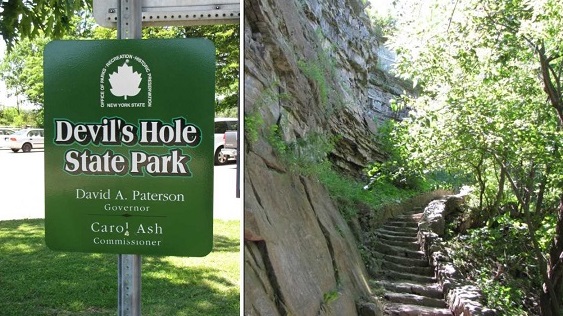 Devil's Hole State Park is a 42-acre state park located in on the American side of the Niagara River, north of the City of Niagara Falls.
Devil's Hole State Park overlooks the Devil's Hole Rapids. The park has picnic areas, scenic overlooks and hiking trails, and is one of the more popular spots for fishing. A stone staircase leads down to the base of the gorge and the Devil's Hole Trail, which offers spectacular views of the rapids and gorge rock layers.
Devil's Hole State Park provides amenities like Picnic tables, restrooms, hiking trails, fishing, historic markers, scenic views etc.
Devil's Hole State Park is open year-round. But some areas of the park may not be safe during the times of heavy rain or snow.
Best season to visit:
Autumn for the foliage and fishing
Winter for fishing
Summer to get away from the tourist crowds at the Falls.
Hours : Dawn to dusk. The park is for day use only, as the trails are not lit by artificial light.
Parking : Parking is available in two lots near the park entrance on the Robert Moses State Parkway.
Admission : Free.
Pets : Household pets are allowed. They must be caged or on a leash not more than 6 feet. They are not allowed in the restroom.
Devil's Hole Park is filled with beautiful sights all the way down. Its really worth spending time enjoying the sights and sounds of the river.
Address:
Robert Moses Parkway Niagara Falls, NY 14305 Phone: (716) 284-5778