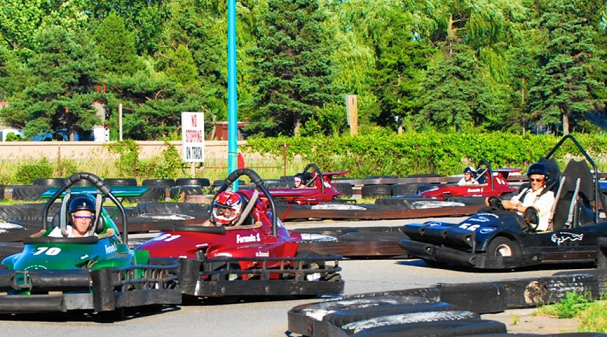 NIAGARA GO-KARTS
Niagara Go-Karts and mini putt is perfect entertainment in the Niagara region. Niagara Go-Karts is located on Kingsmen Court, just off Queen Elizabeth Way on Niagara Falls' south-west corner. It's designed to be a fun destination for the whole family. Niagara Go-Karts is Only 4 Mile from the "FALLS".
Race against one another on the 1km racetrack and then head to the mini putt for a round. Niagara Go-Karts, one of Northern America's fastest tracks, uses modern karts styles like Formula 1 racers, with quick acceleration and tight handling.
FORMULA 1 :- The 'Formula 1' karts are 13-horsepower and designed for quick acceleration combined with tight handling. The F1 karts have an age and height requirement (minimum 14 years old and 5 feet tall).
TWO SEATER FAMILY KART :- Take your kids for an exciting ride. Min. 10 yrs old and 4"6" is required to drive these karts. Employees constantly patrol the track to help out anyone needs assistance.
For your safety, all go karts are equipped with roll bars and seatbelts.
For groups of 10 or more, the special "Group Rates" apply.
Schedule:
OPEN 7 DAYS A WEEK INCLUDING HOLIDAYS (weather permitting)
March, April, and May 12 Noon To Dark
June Monday to Friday 12 Noon To 9 PM
June Saturday and Sunday 10 AM To 10 PM.
July and August (up to Labour Day in Sept.) 10 AM To 11 PM.
September and October 12 Noon To Dark
November (Weekends Only) 12 Noon To Dark
Ticket Rates:
6 x (1Km.Lap) plus 4 Free Laps - $25.67 + HST: $ 3.34 6 x ( 1 Km. Lap) plus 4 Free Laps Plus Mini-Putt - $29.21 + HST: $ 3.80 Challenging 18 Hole Mini-Putt - $5.31 HST: $ 0.69
Address: 7104 Kingsmen Court, Niagara Falls, Ontario, Canada, L2E 6S5 Phone: (905) 356-9030